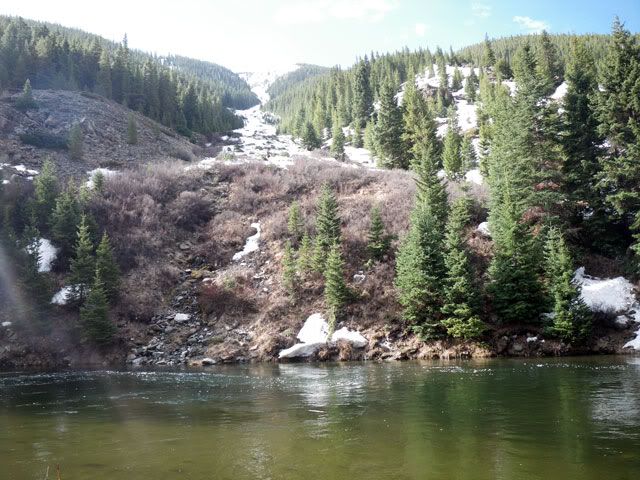 The Slide Hole
This was my first fishing trip to the fabled Taylor River. Photos and stories of giant rainbows and browns in the aptly named "Hog Trough" are etched in the minds of hundreds of fly fisherman around the world. These fish grow rapidly and huge on an ample supply of mysis shrimp that live in the depths of Taylor Reservoir and are released into the river below through the flow control pipes in the dam. The river itself produces a prolific midge population that adds variety to the diet of these legendary trout. The size of these fish is amazing in itself but the numbers of them is what the biggest surprise to me was. They were schooled up in pods of up to twenty fish, ranging in size from 2-4lbs. The larger fish, some over 10lbs were fewer and tended to be solitary.
This time of the year, and with the snow fall totals being way above average this year, the flows out of the dam are pretty high at nearly 600 cfs but surprisingly clear. Steve explained to us that the mysis shrimp have yet to go into spawn, so there would not be a lot of shrimp coming out of the pipes. I tied up a bunch of mysis and crane fly larva patterns in anticipation of the high flow and expected shrimp hatch. The fish were only interested in tiny #24 midge nymphs mainly in tan and cream, although Steve took some big ones on a small pheasant tail.
We stayed at Harmel's Resort. They are offering a smokin' deal on pre-season rates so we jumped at the opportunity to stay in warm beds with showers as opposed to a tent and cold ground. They also have a nice stretch of private water that we had access to.
It was the best of times; it was the worst of times.
Steve had an epic weekend catching several over 5lb including one that had to go 10lbs. Travis and I both caught fish but nothing over 18". That and the joking and drinking with a couple friends was the best of times.
The wind blew hard, often gusting over 30mph turning road gravel into missiles, twisting fly rigs into tangled rat nests, and blowing anything that wasn't tied down into the river. We managed to avoid most of the masses by fishing during non peak hours, but that didn't completely free us of people's rude behavior and lack of etiquette t that inevitably descend on a popular stretch of trophy trout water. That was the worst of times.
We arrived at the lodge around noon on Thursday, checked in, unpacked the non fish related articles and headed up to the Hog Trough. To our surprise there weren't too many people there, only a few cars and everybody was spread out on the river. Steve was catching fish before Travis and I even got rigged up. The wind blew and sucked.
We fished until around noon on Thursday, then went back to the motel, had lunch and organized ourselves a bit. Once we got fed and settled we went down to the river behind the lodge and sampled the local fish wares. Fishing was a little slow and Travis and Steve decided to go back up river. I opted to stay and further explore the water around the lodge. The boys did well up river and found even fewer people on the river late in the day. I managed a half dozen behind the lodge.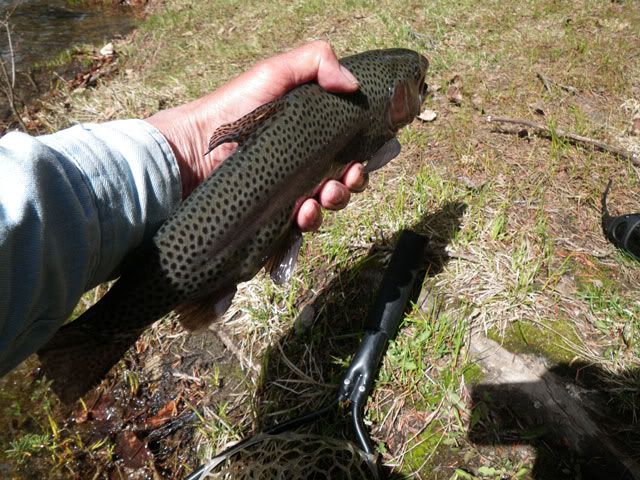 Thursday night was grill night. We cooked up pork chops, grilled onions and pineapple with a side of cream corn, beans and apple sauce. Good eats.
After a night of broken restless sleep, we headed to the Trough just after first light Friday morning. We found cool calm weather and an empty parking lot, rigged up and hit the water. We fished the Slide Hole together for about an hour and a half then Steve and Travis moved over to the other side of the bridge. There was a huge hatch of small midges and a few sporadic rising fish, but not enough to switch over to dry flies. I saw one giant brown rise several times mid river, tossed my nymphs above him a few times but he was having none of it.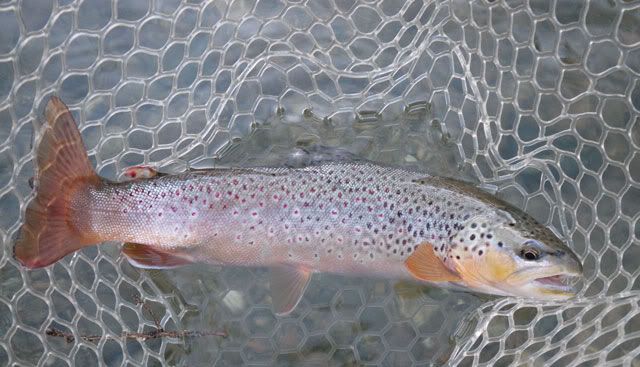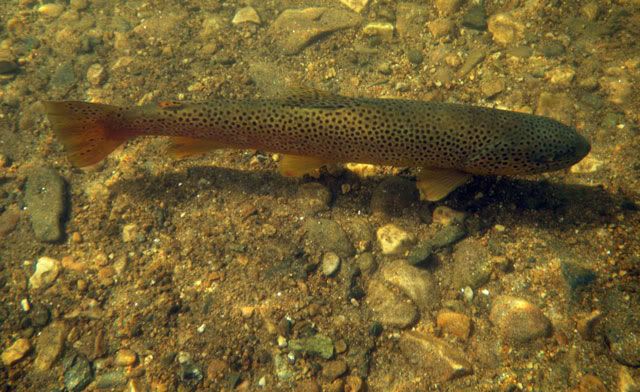 It was nice having that water to ourselves for a few hours before the masses began to arrive. Not long after the sun hit the water the wind started to pick up and increased in intensity at a steady rate until it became a major pain in the ass. Steve's epic big fish weekend kicked off early and often. We fished until around noon and headed out for lunch and relaxation, a supply run to Gunnison and let the crowds have the water. Around 3pm we headed back up river for the afternoon shift. The wind was too much for me to deal with so I sat it out and napped on and off in the car while Steve and Travis toughed it out and took some more impressive fish.
Friday night we had a disappointing meal in the lodge restaurant and later relaxed in the hot tub with some of the lodge personnel. We had some interesting conversation and learned much about the area and the local color, including speculation that with the heavy snow fall the flows will probably remain around 600cfs well into the summer, possibly into late August.
Saturday morning we awoke pre dawn and kicked around the idea of going back up river or staying at Harmel's. I already made my mind up the night before to explore more of Harmel's private water. There is a complimentary buffet breakfast included with the room, so we took advantage of the offerings. It was not the best food, in fact the rubber eggs were pretty bad, and it seems the sausage pattys didn't agree with Steve or Travis at all. Fortunately for me I opted for a massive serving of bacon and passed on the pattys. Steve was nursing a wounded leg and Travis was not feeling like fishing anymore so I took off by myself to check out some more of the resorts water. There are some impressive fish in this water, although no where near the numbers as the Hog Trough. While I never did get into a 5 pounder I managed around a dozen more fish in the various runs and slack water seams. Fun stuff.
As we were packing to leave a couple guys were just moving into another unit. They turned us on to another spot to check out in the future that supposed to have the same kind of trout as the Trough but without the crowds. It is now indelibly etched in my mind to be investigated at a future date. Wanna go?