It's over 70 miles from my home to Blue Quill Anglers. The day's schedule listed the showing of "Eastern Rises" DVD at 9 am and I didn't want to miss a minute of it, so I hit the road at 7:45. The back road to Evergreen from Woodland Park goes north to Deckers, over 4Mile Hill to Buffalo Creek, then follows the North Fork of the South Platte to Pine, then up to Pine Junction, Conifer and eventually Evergreen. As I drove past the parking area for the trail to Cheesman Canyon I was surprised to see about 30 cars in the lot! "Not a good day to be on the river." I thought.
"Eastern Rises" was amazing. The scenic beauty of Kamchatka and the size and ferocity of the areas fish will have you shuffling the order of your bucket list to put this place in the number one spot. This film is not a pretentious gear snob film, and the guys in the film are regular fly guys that I would be happy to share a river and a beer with. I'll be buying this DVD.
Kerry Caragher's presentation on "Fishing Clear Creek" was a hotspotters delight. I'll give him credit for future relief of pressure on other popular areas since the hoards will now be descending like vultures on Clear Creek.
John Barr passed around his fly box and discussed what and why he uses the flies and streamers in it.
Steve Parrot's presentation on "Chech Nymphing Techniques" was informative and enlightening. He discussed the techniques history, rigging, and presentation in simple understandable terms.
I missed Bob Dye's presentation on "Fishing the Upper Colorado" because I was casting some of the great Sage and Orivis rods that were there for the trying. I likes me some-a-dat Zaxis stuff, but $700 for a fly rod is not on my priority list right now.
Trying to read the screen in the bright sun was tough
Another interesting thing there was the Sage Casting Analyzer. This gizmo attaches to the butt of a rod and a Palm Pilot and records the motion and speed of your forward and back cast and is transferred to a computer that compares your data with that of an expert caster. Luckily for me the things batteries died while transferring my data to the computer, sparing me the embarrassment of having to see my results.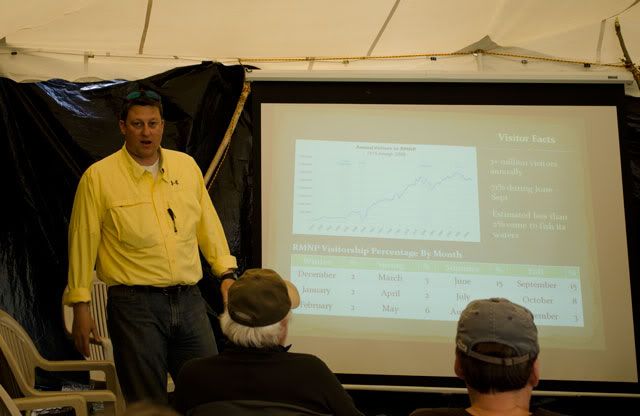 Steve Schweitzzer
Next up was Steve Schweitzer's presentation on "Fishing Rocky Mountain National Park". This was great and well worth twice the price of admission. (free) His book is full of great color photos, charts and information. In his presentation and his book he breaks the Park down into 8 sections and discusses each one and what type of water and species of fish you will find there.
Landon Mayer
Landon Mayer's presentation was called "Timing is Everything: Trout Hunting Colorado's Four Seasons." As usual Landon did not disappoint. He is a great speaker and of course an incredible fisherman. His slides and descriptions of how to find the big fish was well thought out and presented.
The finale for the day was the raffle. BQA gave away some really nice stuff, including 2- $250 gift certificates for Simms products, a Lamson Litespeed reel, an Orvis Access reel, a Brodin Platinum Gallatin net, a Sharkskin line, and a Sage Trout rod of your choice.
My friend Steve was going to leave early and gave me his raffle tickets, but I talked him into sticking around, so I gave him back his tickets. Trouble is my tickets and his tickets got all mixed up so we decided we would split any booty if we won a prize. First ticket pulled was one Steve had, a baggy with an assortment of fluorocarbon tippet and leaders. I'll take it thank you very much.
It was a fun day and the weather was spectacular for the event. If you have never been, don't miss it next year.