Some months back GoLite had a sale on Closeout items in their inventory. Among the stuff on sale was their 2010 model Pinnacle backpack. At $60 I couldn't resist snagging one of these. They have a street price of $130 and list for $175. I figured if I didn't like it I could sell it to a friend for the same smokin price.
Personally, I'll be using this pack mainly to haul my fishing gear to high mountain lakes during the short summer months (about 20-25lbs including camera gear) and an occasional two or three day pack trip into some wilderness areas to do some photography (about 35lbs).
A little about the pack
The pack weighs in at 2lbs. flat and the volume is 4392 cu in. (or 72 liters) compared to my old Gregory pack weighing nearly 7lbs. of similar volume. This pack is a top loading style pack with a roll down top w/draw cord and one thin webbed strap and snap buckle to secure the top. It has side compression straps, a lightly padded, meshed back pad, one large external pocket on the front, an internal Camelback pocket w/port hole for the hose, sternum strap w/built in whistle in the buckle, lightly padded hip belt w/a small zippered pocket on each side, two water bottle pockets on the sides, a system to compress the pack when not fully loaded to improve stability, two ice ax loops and of course padded shoulder straps. The material used in these packs is Tier 1 Recycled 210 Denier Nylon Gridstop + Dyneema®; Tier 1 Recycled 210 Denier Nylon Double Ripstop; High-Void Polyester Mesh. The maximum weight loaded recommendation from the manufacture is 18 kilos (or 39.7lbs).
First Impressions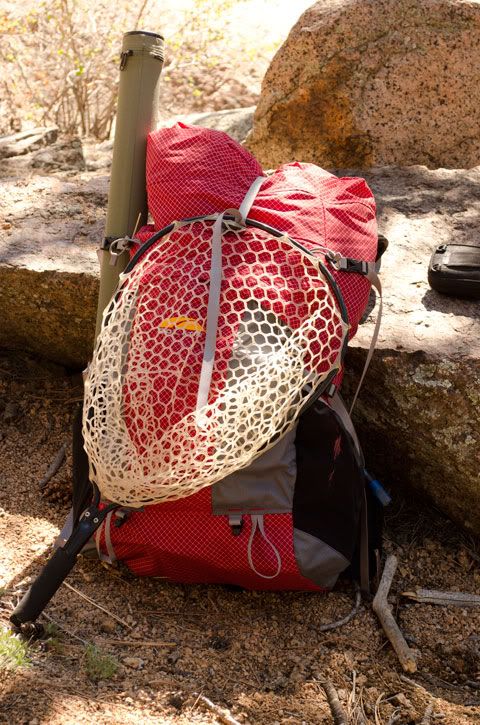 On my trip into Cheesman Canyon to fish and test this pack, I loaded it up with, wading boots, waders, lunch, a full camel back, my loaded fishing vest, a Mountain Smith lumbar pack (empty), first aid kit, two 9' 5wt rods in one tube, my large net, a Nikon D7000 w/18-55 lens, a Tokina 11-16mm 2.8 lens, a Pentax Optio W80 underwater P&S camera. My guess is that it weighed about 20-25lbs. loaded. I hiked in about one and a half miles on a pretty easy trail.
The initial feel of the pack, after adjusting all compression straps and hip belt, was nice and snug but not tight. I could move freely up and down and from side to side without the load or pack shifting, which would suck when you are traversing narrow ledges, jumping from rock to rock crossing a stream or scrambling over boulders. The only thing that felt a little awkward was the sternum strap rides a little high and is not adjustable.
Hiking with the pack on was nice. The back pad was comfortable, conformed nicely to my back and didn't get my back all wet with sweat. The shoulder straps were padded enough and wide enough to not irritate or dig into my shoulders. The hip belt was snug enough to keep the weight distributed and not resting overly on the shoulders or having to be pulled so tight I could hardly breathe, which was sometimes the case with my old Gregory.
The side pocket and compression straps are nice for carrying the rod tube and the buckle for the top is a great place to attach a net. I stashed my first aid kit and lunch in the large front pocket for easy access.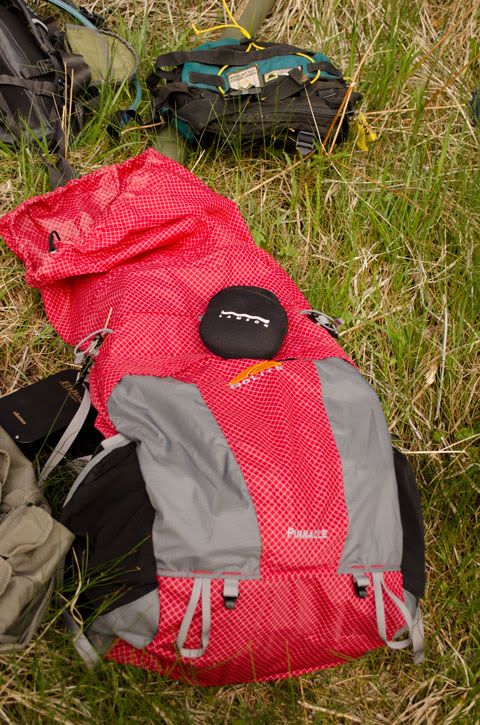 Once I got to the river and got my waders on I put my hiking boots, windstopper vest, and wading jacket (it's was a little chilly at
6:30 am
) in the pack. After fishing awhile I put the pack on and moved to another section of the river. With waders on, the hip belt slipped some, which could be expected being worn over slick gore-tex material. This put a little more pressure on the shoulders and was a bit uncomfortable.
The Verdict?
All in all, I give this pack high marks so far. The only thing that concerns me at this point is the sternum strap issue. If they would make this adjustable it would be an improvement. Since this was the first trip with this pack (and a short one at that) I want to do a little more with it before I give it a final thumbs up or down. So the verdict for now is "Looks good, but inconclusive" You can learn more about GoLite products @ http://www.golite.com/main/home.aspx