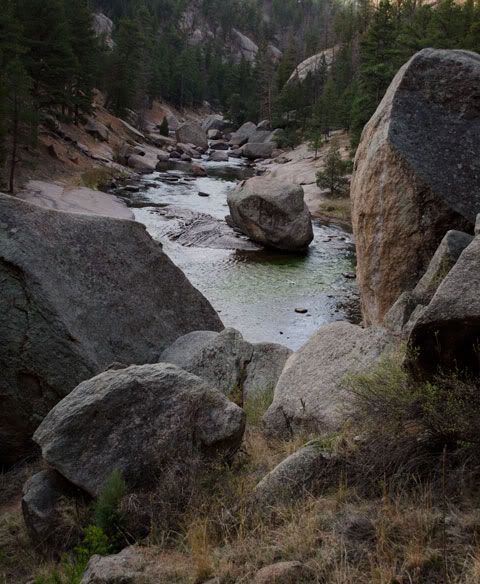 A friend from one of the fishing forums, Bennyz and I got together to fish Cheeseman Canyon yesterday. He had never been to either Deckers or The Cheese, so we cut to the chase and cut the Cheese.
Weather was a beautiful 70+*, little wind and blue bird blue sky.
Flows were a little low at 119cfs and there was a thickening hatch of green weeds that fouled our flies on every cast. There was even a lot of clumps free floating in the water column that we would catch on our flies. A real pain in the butt. Fish were spooky as hell and bolted at the slightest movement.
We hiked up canyon about a mile and a half and found some promising water to try. I packed in my waders and gear in the Golite Pinnacle pack I bought a couple months ago. It was the first trip with this pack so this was kind of a shakedown cruise and test trip for it. I'll post a review of the pack later today.
Anyway, we didn't score a single fish. in the canyon. Benny got a couple tugs, I got nuttin.
We decided to go try Deckers to try and avoid a visit from tuxedo kitty. It was tough going all day. We threw everything under the sun at these fish from every color and size midge to the entire life cycle of caddis and beatis, with no love.
We did see a lot of adult caddis in the willows but only sporadic rising fish. After a frustrating day of nymphing we tied on some big dries from size 10 Amy's Ant to size 20 para adams and just trolled the lanes trying to pound up a fish. We took numerous breaks and just sat on the bank drinking beers and watching small birds chasing caddis in the willows and watching for rising fish. Finally, after one such break I tied on a size 18 black foam body EHC and dropped a size 20 gray Para adams off of it and got a take on the adams.
It was a rough day, but being out on the river, on such a beautiful day was a reward in itself. And fishing with Benny was a hoot. I'd fish with him any day.
This herd crossed the river just a few feet from me