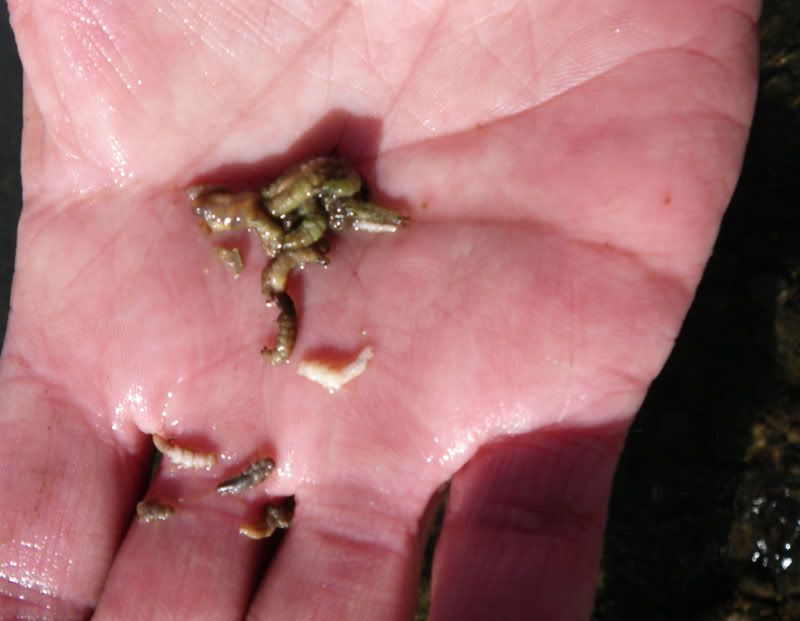 I'm going to go out on a limb here and make a prediction.
The Deckers area has had some massive caddis hatches the last few years but this year the caddis population seems to be down comparatively. With the drop in caddis production in the Deckers area I feared the rest of the South Platte would suffer the same decline. This deeply disappointed me, as the caddis hatch is my favorite hatch to fish.
A few days ago I fished the Charlie Meyers Wildlife Area with some friends and got into a few decent resident browns right off the bat. The first fish we stomach pumped was loaded with caddis larva. Nice big fat juicy green and cream colored caddis that were a good size 16 bug. We rigged up with some chartreuse larva flies and started getting into more fish, but the flow was soon bumped over 50cfs, the river went off color and the bite stopped dead.
While the rest of the day was pretty much a bust I was still pleased to see a fish that was loaded with caddis on this stretch of the Platte.
Last year there was a huge caddis hatch on this stretch and I had a great time fishing to fat and sassy browns and bows. It's still a little early for a full blown hatch this high up but the outlook is good. Look for the hatch to commence en mass within the next week to ten days. So my prediction is "EPIC CADDIS HATCH TO COME"